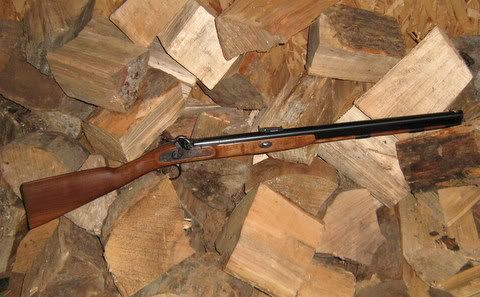 This is a picture of a .50 caliber Thompson Center New Englander I just picked up from forum member Corey. I tried to clean the barrel, but Corey had that thing spotless. Nice job there Corey.
I then put in a T/C Hot shot stainless steel nipple. I cleaned the bolster with pipe cleaners and Montana X-treme cowboy solvent. Since its snowing I could not go outside to shoot it (windy too). So I wanted to see how much fire it would throw with the new nipple in and all cleaned out bolster. Very impressive. I pushed a couple patches down to the breech and it blackened every one of them just fine.
I then took the lock apart, cleaned that and put it back together and got a little bit of false drag out of the fly, and it works perfect. So I found a wedge pin for it (actually a friend made me a number of these out of stainless steel in his shop) and put the rifle together. After I waxed the stock and shined and oiled the barrel I think it looks pretty good.
I am not sure about that front sight on that thing. I looks like it should shoot real low, but the first range session will tell me that. Now if it would just stop being nasty out and let a person shoot...
Thanks again Corey.