Joined

Dec 4, 2020
Messages

23
Reaction score

22
Would you like to learn how to safely and effectively hunt with a muzzleloader?​
Regardless of whether you're brand new to hunting with a muzzleloader or if you just want to take your muzzleloader game to the next level, then the Muzzleloaders 101 course is the perfect resource for you.
During the Muzzleloaders 101 course, which consists of 11 video modules and nearly 2 1/2 hours of content, you'll:
• Learn how to decipher muzzleloader hunting regulations and discover many of the different things you need to be aware of when it comes to ensuring that you're hunting with legal muzzleloader equipment in a particular area (to include states with more complicated regulations like Colorado, Idaho, and Oregon).
• Receive assistance selecting the best equipment for the game you want to hunt and for the situations you're most likely to encounter that game under. Specifically, I'll help you find the right muzzleloader, sighting system, powder, primer, bullet, and other accessories for your individual hunting situation that also fit within the constraints of what's legal for you to use, your budget, and the sort of hunting experience you want.
• Get step by step instructions on how to load, fire, reload, unload, transport, store, and clean your muzzleloader.
• Learn some of my best tips on how to ensure your muzzleloader always goes off (even in really bad weather), how to troubleshoot accuracy and ignition issues, what gear you should carry afield with you on your person or in your bag, the best way to physically carry your muzzleloader on a stalk, at to do after you actually shoot an animal with your muzzleloader, and much more.
All told, the Muzzleloaders 101 course costs less than a tank of gas, but could easily save you
HUNDREDS
of dollars by helping you avoid wasting your money purchasing stuff that won't work, is illegal to use where you hunt, or that you just don't need!
In addition to all of that, you'll also receive exclusive access to a private Facebook group where you'll receive regular access to other experienced muzzleloader hunters and shooters and where you can ask questions, get feedback and help, and receive support as you move forward in your muzzleloader hunting journey.
And to top it all off, I've arranged for a special
EXCLUSIVE
discount with Muzzle-Loaders.com on muzzleloader equipment for
EVERYONE
who purchases access to the course. So, not only will I help you learn to use a muzzleloader and purchase the right gear, but I'll also help you
save money
on those purchases. This coupon code can be used multiple times, so you'll save money on your initial gear purchase as well as on subsequent purchases of equipment in the future. With that in mind, this discount code can easily save you hundreds of dollars over the course of your muzzleloader hunting career. Indeed, the savings from the coupon code
ALONE
can easily cover the cost of the Muzzleloaders 101 course.
If all that stuff weren't enough, we're also going to give a
FREE
CVA Optima V2 muzzleloader with a 3-9x40mm scope to 1 of the first 100 people who sign up for the course.
If that sounds appealing to you
click here
and fill out the order form to receive instant access to everything in the course.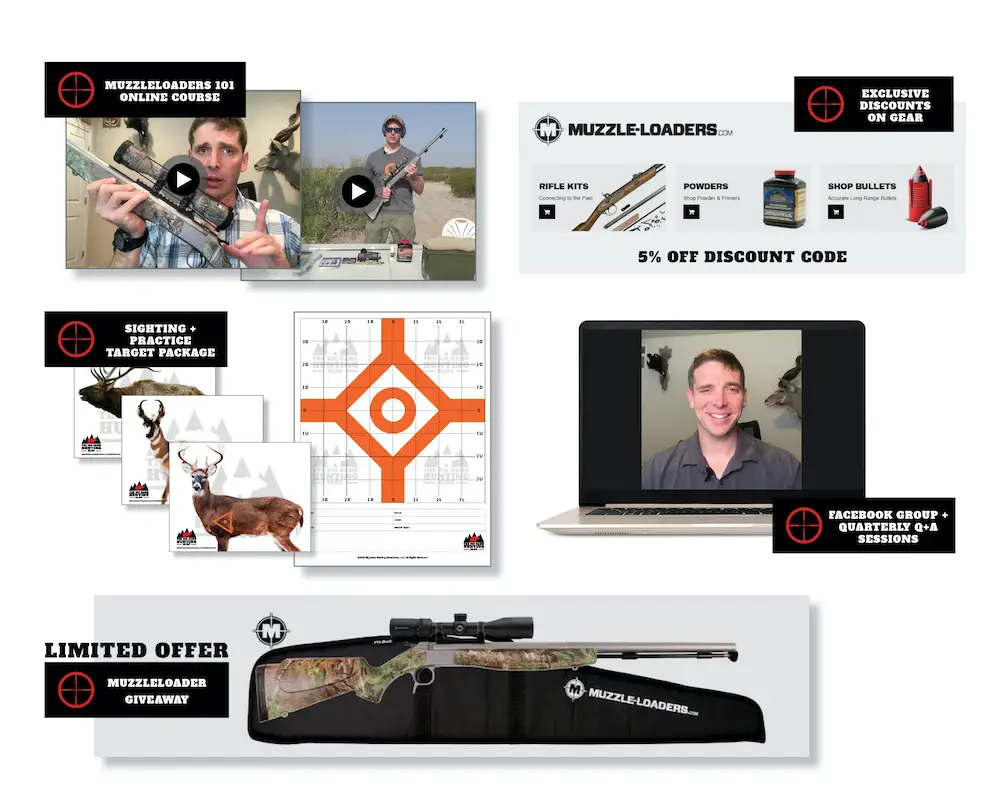 Last edited: